During our October trip to Haiti to visit with Jesula, my wife and I spent some time with another one of God's precious Angels. Her name is Redjina Jean Simon. Redjina is basically pronounced the same way we pronounce Regina in English. She is a very special young lady.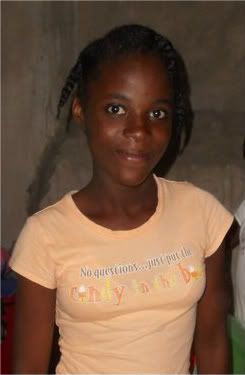 Redjina has endured more in her life than any of us could even imagine. Yet, she loves Jesus with all her heart. And it shows, as she is very kind and loving. She is also very smart. She can speak four different lanquages, one of which is English. She is truly beautiful inside and out.
Redjina made a profound impression on us. She has been on our hearts ever since. I think God sent her to us to help us on our journey with Jesula. We are praying for Redjina and for God to work miracles in and through her life.
God will command His angels to protect you wherever you go. Psalms 91:11