I travelled to Haiti this past week, July 20-25, 2011 to serve and spend time with my beautiful girls. Our mission team consisted of 16 people. This was really a special group of people which made for an awesome experience. Only God's hands could have assembled this group of people to conduct the Kingdom work that was planned!
We were on the ground in Haiti around noon on Wednesday. We made the long trek up the mountain to Camatin and were at the orphanage about 4 PM. The girls were waiting. We spent the rest of the day Wednesday relaxing and loving on the girls!
Thursday morning early, Ricot drove me back down to Port au Prince to the U.S. Embassy. I had an appointment to file I-600 petitions for Jesula and Redjina. The I-600 classifies a foreign orphan who is being adopted by a U.S. citizen as an immediate relative of the U.S. citizen to allow the child to enter the United States when the time comes. The appointment took about three hours and included submitting the I-600 petitions, several supporting documents, and being sworn in and interviewed by the Consulate General. Mission accomplished. I would like to say a special thank you to my friend Ricot Louis Juste for all of his work with the girls in the orphanage and in assisting with the adoption process. It could not be done without him!
The team spent the entire day Thursday with the girls. The theme for this trip was "Daughters of the King" and included many activities. We made tie-dye shirts, made mirrors & talked about how man looks at outward appearance but God looks at the heart (1 Samuel 16:7), gave each girl a photo album with pictures of themselves, made each girl a photo frame with her name on it and put their picture in it, and colored pictures of princesses. The grand finale was a "Daughters of the King Tea Party". In preparation for the tea party, all the girls had a bath, put on a dress, got their nails painted & makeup, and were given some bling to wear. We gave each girl a photo of themself that we made with an instant camera. We then conducted a bible class and taught them that they were daughters of the king. Each was given a Haitian Creole Bible. Finally each had a tiara placed on their head and it was off to the tea party!
That evening we hung and covered a banner while the girls were busy in the dining room. We brought them all in and had them sit in the floor in front of it. Ricot spoke to them about being Daughters of the King. When we uncovered the banner, their gasps, expressions, reactions, and chatter was priceless!
Friday the team travelled to the nearby villages of Beloc and Coq Chante.
Beloc - We went to Beloc to bless a 17 year old girl named Mikanna and her mother. My friend Cyndi Dodson and I met Mikanna on a mission trip last August and she grabbed our hearts. Cyndi helped me provide the funds to purchase food for them. The team walked through Beloc and to Mikanna and her mother's little one room shack. We prayed over them and blessed them with enough rice, beans, fish, cooking oil, etc. to eat for about a month!
Coq Chante - We walked a few miles around the village of Coq Chante. Along the way we blessed families with bags of rice. We also handed out dresses sewn by my aunt Anne and her friends that live in Florence, AL. There were little girls and elderly ladies with big smiles holding up new dresses!
We visited Atanie's grave. Atanie is the young orphan girl that died when the orphanage collapsed during the earthquake. We also went to where the orphanage once stood. Agathe, who was the orphanage director at the time of the earthquake, was with us. She graciously shared an emotional story about the events on the day of the earthquake. The group was very moved by her words!
Saturday we took the girls to the beach in Jacmel. Everybody had a great time splashing and singing in the Caribbean waters. We fed the girls a nice lunch with fish and plantains.
Sunday we walked up the hill to worship in the Church of the Redeemer in Camatin. It was a wonderful service with beautiful singing. After church we served over 250 local people a warm lunch and gave out gift bags of food to take with them. It was truly a wonderful day of worshiping and serving!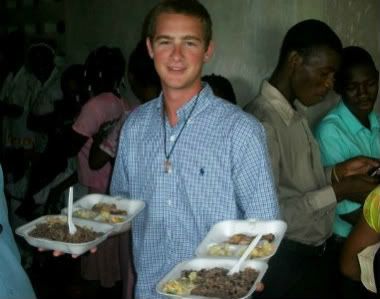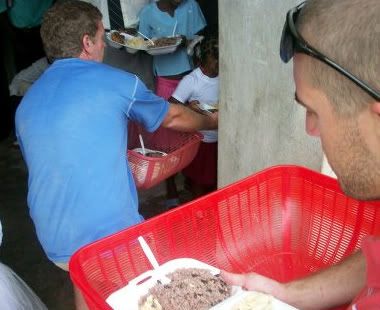 And just like that it was Monday morning and time to leave. I had a wonderful time, not only with my girls, but also with my Haitian friends such as Ricot, Marieflore, Agathe and her husband Roland. I always miss my girls and Haitian friends after leaving, but I am also really missing my friends that I travelled and served with in Haiti. Overall this trip was the most enjoyable yet, which also means it has been the most difficult to recover from emotionally.
Though the mountains be shaken and the hills be removed, yet my unfailing love for you will not be shaken nor my covenant of peace be removed, says the Lord, who has compassion for you. Isaiah 54:10