Shawna and I travelled to Haiti this past week, March 23-28, 2011 to serve and spend time with our beautiful girls. Our mission team consisted of 17 people. This was a special trip because 15 of the team members are in the process of adopting 11 of the girls from the orphanage in Camatin. Needless to say it was a blessed and emotional time.
This picture is of families from Grace Baptist Church that are currently adopting. There is one family from our church that is adopting that was not on this trip, and our Redjina is not in the picture!
We flew into Port au Prince around mid-day on Wednesday, March 23rd. We jumped in the transport truck and headed straight to the mountains. Three hours later we were at the orphanage in Camatin. Redjina, who is currently staying in Port au Prince, had final exams in school, so we would not get to see her until Friday, which was really tough. But that did allow us some special time with Jesula for the first couple of days.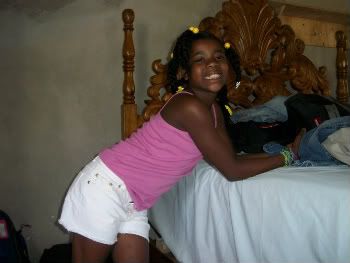 Thursday
We worked on various projects around the orphanage including repairing chairs in the dining room, some minor electrical and plumbing repairs, and building benches for a new sewing room.
Thursday afternoon we loaded up in the transport truck and went to serve in the mountain village of Beloc. We saw the new house that has been provided for by our friends Jon and Amy Knowles. Matt and I delivered and carried the materials for this house back in January. It was awesome to see what God has done for this family in Beloc!
Friday
We loaded up and left Camatin at 5:30 AM and drove to Port au Prince. We dropped off two families at the United States Embassy to work on adoption business and then drove to Tabarre. After a short wait in Tabarre we went to pick up Redjina from school. She walks three miles each way on a gravel road to school each day. The schools there are nothing like schools here. Her school is just a one level block building with dirt floors and very basic furnishings. I'll never forget that moment when I saw her at school. She looked so beautiful in her school uniform.
From there we headed to the Courthouse to take care of adoption business. Shawna and I were scheduled to meet with our attorney and make a Court appearance. This was the main purpose for this trip. Well, this was interesting to say the least. The Courthouse, a small block building, is located on a busy street lined with people, trash, and rubble. We parked in an alley behind the Courthouse. We were lead through a crowd and inside a very small room, perhaps 10 feet by 10 feet. We met briefly with our attorney. Shawna and I presented our passports to a Court representative who made some notations. Then Shawna and I were each instructed to sign a blank piece of paper. Yes, that's right, a blank piece of paper. We were there perhaps 15 minutes and then we left. How is that for a Court appearance? Only in Haiti!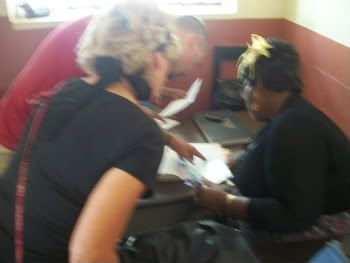 After Court, we took the girls to dinner in Petitionville, which is where the upper class live in Port au Prince. This area is still not nice in American terms. But I must say, the restaurant was really good. We had pizza that would rival most any place in Knoxville. The girls had never been to a restaurant before so it was big fun.
After dinner, we stopped at a nice market (grocery store) in Petitionville. The girls had never been to a market before. We walked up and down each isle and the girls were amazed by all the food. I told the girls to pick something out. They were hesitant at first, but before long each had several items and big smiles on their faces. Jesula's first choice was chips, and Redjina's was Oreos!
There was an elevator in the market. The girls had never seen an elevator before, much less been in one. Jesula was really hesitant about getting into the elevator and had really big eyes when there door closed and it started moving. Redjina just smiled and said "wow"!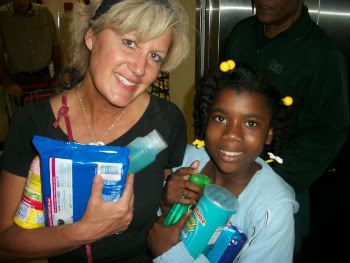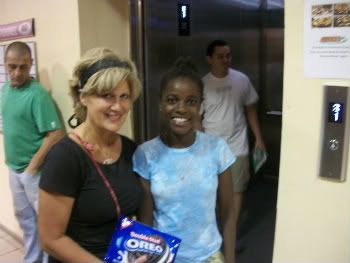 When we left the market we made the three hour drive back up to Camatin. We got to the orphanage about 11:00 PM. Needless to say, it was a very long, emotional, interesting, exciting, fun day in Haiti!
Saturday
Saturday was beach day. The orphanage is located on the side of a mountain and there is not really a place for the girls to play outside. They spend the majority of their time inside. So, the beach trip is something the girls always look forward to and is great fun for everyone.
Sunday
On Sunday morning we attended church in Camatin. The church sits just up the hill from the orphanage. After church we served lunch to the church members and locals which is always a treat.
The church currently meets under a tarp, but will soon be moving into a new building provided by the efforts of the Hope Alliance. Kym Meehan, who is a very special lady, heads up the Hope Alliance. It was such a blessing to meet, serve with, and get to know Kym on this trip. She has done many wonderful things for the orphanage and the church in Camatin.
Sunday afternoon we loaded up in the transport truck and went to serve in the mountain village of Coq Chante. We walked several miles up and down the mountain side. Redjina hiked the steep, narrow, rocky trails barefoot. It was an amazing sight. We delivered food such as beans, rice, and cooking oil to the area people and prayed over them. They are always so thankful!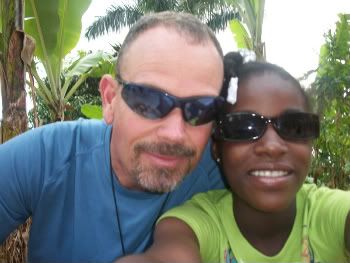 Late that afternoon, while were still in Coq Chante, we received a phone call notifying us there would be riots Monday in Port au Prince. The decision was made to go back to the orphanage, pack up our things, and leave that evening, instead of the next morning. They wanted to get us through PAP that evening before the riots started the next morning. So we hurried back, packed, had dinner, and spent a few more minutes with our girls. Jesula was sad to see us go, but was in good spirits and was sweeter than ever those last few minutes. We said tearful goodbyes and loaded up and left.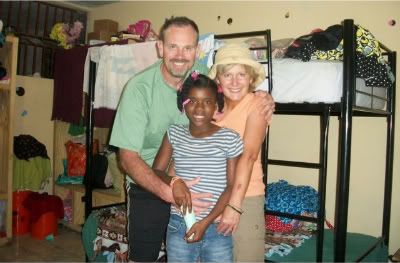 We safely arrived at the mission house in Tabarre around 10 PM. This is where Redjina lives during the school year. So she came too and we were able to spend that last night with her. We had a great evening with Redjina just talking about "one day".
Monday
We were up and ready to leave for the airport by 9 AM. We said goodbye to our dear Haitian friends. And as we had the night before with Jesula, we shared a tearful goodbye with our angel Redjina.
We made it to the airport without any issues. At the airport we were informed the riots had started. Thankfully our trip home was uneventful, but just like that it was over.
We love our girls beyond explanation. As a result, our trips to see them take painfully forever to come, and then go by so painfully fast!
Love is patient and kind. It does not envy or boast. It is not proud or rude. It does not insist on its own way. It is not easily angered, it keeps no record of being wronged. It rejoices in the truth. Love always protects, always trusts, always hopes, always perseveres. 1 Corinthians 13:47