On Tuesday evening, April 13, 2011 Jesula and six of her sweet orphanage friends, that are also in the process of being adopted, were brought down to Port au Prince. Over the next three days the girls went for Psychological Examinations, Medical Examinations and Blood Tests. This is all part of the medical requirement for the adoption process.
Redjina and Jesula with the other girls, Chilove, Maeva, Onise, Eldie, Cadonia, and Berline before Psychological Exams on Thursday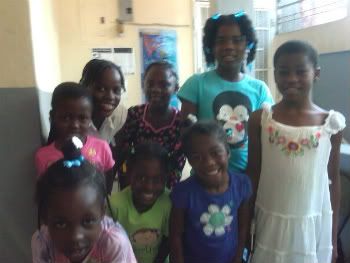 Jesula having blood drawn on Friday
Redjina having blood drawn on Friday
Jesula and Redjina both handled all of these exams very well. They are such strong, brave children. They have experienced more challenges in their short lives than most people in this world could even imagine.
I want to add a special thank you to Ricot Louis Juste for the work he is doing for my girls and all of these girls. Ricot oversees Poor Children's Assistance Project (PCAP). He has a tremendous amount of responsibility and is involved with many churches, schools and orphanages in Haiti. Anyone that is able to help PCAP financially or otherwise, please let me know and I will get you in contact with Ricot. He is truly a wonderful Christian man.
Ricot with the nurse on Friday
For this reason I kneel before the Father, from whom every family in heaven and on earth derives its name. I pray that out of his glorious riches he may strengthen you with power through his Spirit in your inner being, so that Christ may dwell in your hearts through faith. And I pray that you, being rooted and established in love, may have power, together with all the Lord's holy people, to grasp how wide and long and high and deep is the love of Christ. Ephesians 3:14-18