The year 2010 is certainly one to forget for Haiti. A devastating earthquake causing approximately 250,000 deaths, a widespread cholera outbreak, political unrest and riots, make the headlines. All the while millions of Haitians continue to live in tents and unsafe conditions in general. The arrival of 2011 brings hope for better times.
I travelled to Haiti this past week to serve in the new year. I, along with my 19 year old daughter Ashley, 15 year old son Matthew, and a group of God's servants from White Stone Church in Knoxville, TN.
Our mission team consisted of 25 people. We met at White Stone Church late on New Year's Eve. We watched the ball drop, jumped in vans and drove to Atlanta, caught a flight to Miami, then a connecting flight into Port au Prince. We were on the ground in Haiti about 2:00 PM on New Year's Day. Immigration, baggage claim, and exiting the airport in PAP is like a combination of a three ring circus and total chaos. But an hour later we were loading up our transport truck. We drove three hours through the indescribable streets of Port au Prince and on to the orphanage in the mountain village of Camatin. All I could think about the entire journey was holding my beautiful girls, Jesula and Redjina. The last few miles seemed to be never ending. Finally, after 18 hours of vans, planes, airports, and transport trucks, I was there.
My beautiful girls were waiting. I got the hugs I had been dreaming of for weeks. Jesula and Redjina were so happy and their smiles sparkled. Oh, to hear those sweet voices call me "Popi" is just beyond explanation. Ashley, Matthew, Jesula, and Redjina met for the first time. With one little swoosh of God's brush it was true sibling love from the first moment. That evening was one that only God could orchestrate. I and my four children spent hours talking, laughing, hugging, singing, opening presents, and trying on new clothes. It was just perfect!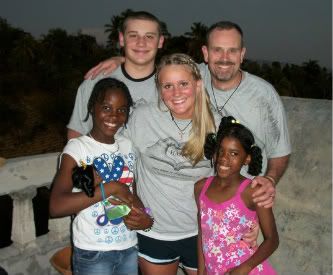 Sunday morning we attended church in the nearby mountain village of Coq Chante. White Stone Church sponsors the Church of the Redeemer Church, School, and Orphanage in Coq Chante. The orphanage collapsed during the earthquake, killing a beautiful 4-year old orphan girl named Atanie. The church now meets under a tattered tarp. God didn't seem to mind one bit about the lack of a nice facility. The service was beautiful and these people certainly know how to worship! Following the service we served lunch to the local church members.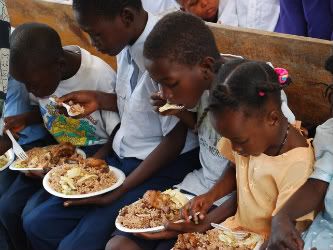 Sunday evening we attended Church in Camatin, just up on the hill above the orphanage. They also meet under a tarp. God provided light for the night time service with a small generator and two light bulbs. It too was an awesome service of worship and singing. I got up and introduced each of my four children and thanked God for blessing me through the people of Haiti.
We spent the day Monday working around the orphanage. I rebuilt a bed. The team painted the girls bunk rooms which had always just been plain concrete walls. We made water filtration systems out of buckets and sorted clothes and shoes to deliver around the local area. We also had a lot of fun playing games with the girls, and watching them sing and dance on the porch. We spent real quality time with our two girls!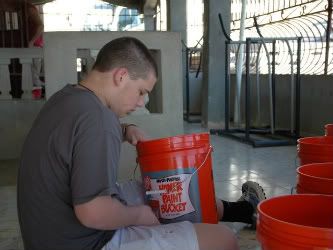 Tuesday and Wednesday was spent serving the beautiful people of Beloc and Coq Chante. Matt and I went with Kurt Rudd and delivered lumber, purchased by my dear friends Jon and Amy Knowles, to build a small house for a family in Beloc. As it happened to me back in August, Beloc broke Matt and he developed a love for this tiny village.
We set up in what remains of the school in Coq Chante and handed out food, shoes, and supplies to church members. We hiked up and down and all around the mountain in Coq Chante. We delivered food, water filtration buckets, bedding pads, and many prayers to the area people. I had the opportunity to meet an elderly Haitian lady that moves herself around with just her arms and hands because her legs are crippled. She treks three miles round trip up and down a mountain side to Church. God was very busy in all of our lives over these two days.
Thursday was beach day. The girls absolutely love going to the beach. Wednesday evening before bed Jesula laid out her new bathing suit and packed a little bag with her float, a change of clothes and a towel. She was so excited. She normally wants to stay up late playing, but she went to bed early in anticipation of the beach. Thursday morning we loaded up 25 orphans and made the 20 mile drive down to the beach in Jacmel. The weather was perfect. We played in the sand and ocean for several hours. We grilled hotdogs and chicken. We had grilled goat and veggies on a stick, which is really delicious! Jesula, except for eating, never got out of the water. We played chase in the water and she laughed so hard. Redjina and I had some nice quiet time and took a long stroll on the beach. It was truly a wonderful day.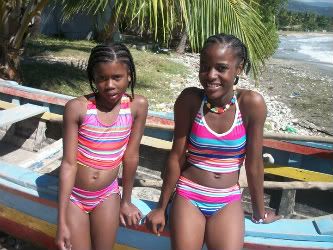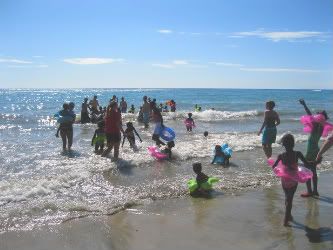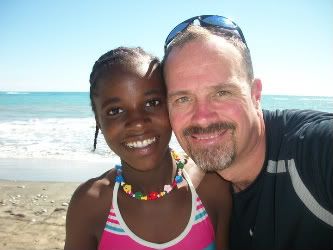 Thursday evening back at the orphanage the reality of leaving the next morning hit us. My dear friend Jovanie, interpreted and read a letter Ashley wrote to the girls. I gave the girls little Angel bracelets my friend Bobbie made for them. We all had a long hard cry. We went to Church service up on the hill in Camatin again. That evening we packed our things with long faces. We spent every last minute with the girls. Fortunately for her, Jesula was exhausted from the beach and fell asleep. Redjina cried on my shoulder in bed throughout the evening. She repeatedly said to me, "tell me you love me Popi?" Needless to say, I didn't really sleep that night.
And just like that it was Friday morning and time to leave. We made some family pictures with the girls. Just before we had to leave, Pastor Zimmerman gathered all the girls in the lobby area. They sang "Worthy is the Lamb" in English. It was an amazing and emotional scene. Ashley, Matt and I all hugged Jesula and Redjina long and hard one more time. It took all of the strength within me to let go of them and leave.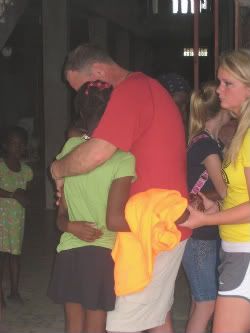 It was a God given week for which I am very thankful. I very much enjoyed getting to know each person that I served with. Each of you made a profound impact on me and my children. I know that God is smiling because of the ongoing good works being done by his disciples at White Stone Church. In Ephesians 2:10 God tells us we are His handiwork, created in Christ Jesus to do good works, that He planned in advance for us to do. I am thankful He planned for me to do good works with each of you!
Finally, I'll say that God really "wowed" me on this trip. He waved his magic wand and created instant sibling love for my four children. I got to witness Ashley and Matt be forever changed by Haiti. He reaffirmed my love for Jesula. He revealed to me that Redjina is one of His Angels and I am honored He chose me to be her father, and oh how I love her too!
The whole earth is filled with awe at your wonders; where morning dawns, where evening fades, you call forth songs of joy. Psalm 65:8