You may recall a post I made last November about Jesula falling at the orphanage and breaking a tooth (you can read that post
here
). As it turned out Jesula had broken both of her top front teeth. As there is not a dentist anywhere in the mountains of Haiti we just accepted the fact we would have to wait to have her teeth repaired when we got her home to America!
When Ashley, Matt, and I visited Jesula in January we got to see her broken teeth for the first time. We told her she was still beautiful but that when she came home with us one day we would have her teeth fixed. She said no, that she liked them that way. What that really meant was that she was scared about what having them fixed would entail. We also noticed while we were there that some of the girls occasionally made fun of her broken teeth.
Here is a picture from our January trip of our sweet Jesula with her broken teeth.
When I returned home from Haiti I showed Shawna pictures of Jesula's teeth. Shawna talked about how she hated the thought of having to take Jesula to the dentist to have her teeth fixed once she finally gets here. Shawna's worry was that Jesula would be scared, and with our language barrier Jesula would not understand what was going on. That mid-January conversation was the last we spoke of the broken teeth.
Then yesterday morning about 7:15 AM I got an unexpected text message. The message was from Pastor Brian of Harvest Field Ministries. Brian said there was a church mission team from Indiana at the orphanage, that included a dentist. He said the dentist would like to fill two cavities and smooth down Jesula's two broken teeth. The broken teeth would still need to be repaired later, but they would be smooth and straight across. They wanted to make sure that was okay with us. I told Brian that would be great and thanked him. I called Shawna and informed her of the situation. Well, Shawna was a nervous wreck. She was worried Jesula would be scared or in pain. Such a good mother!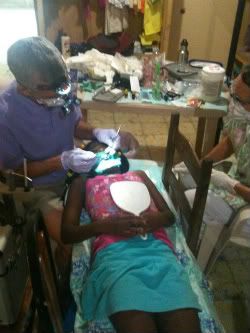 A little later in the day I got this picture via text from Brian of the dentist working on Jesula's teeth. Notice the makeshift operating room, which is actually just one of the orphanage bunkrooms where the girls sleep. It appears they made an operating table by laying a board on some chairs. Check out sweet Jesula holding a mirror. She is wearing her favorite shirt with sparkling stars all over it that I gave her last October!
Brian sent me an update at 2:00 PM that said, "Jesula is doing great. Estimine and Jovanie are doing a good job of comforting her. Her front teeth will be straight in about an hour. I'll send a picture."
I called Shawna and gave her an update. Needless to say, she was still a nervous wreck. Shawna called me back an hour later wanting to know if I had another update. I told her I had not heard anything yet, that Jesula was in good hands, and that I would call her as soon as I heard something.
Well at 3:40 PM I got a picture message from Brian that said:
"Jesula's new smile! Courtesy of Dr. Bob."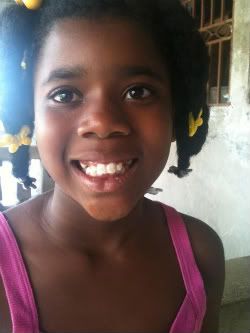 Apparently Dr. Bob decided to go ahead and finish the job. He spent 4 hours smoothing down the broken teeth, and then adding porcelain to make her teeth just like new. Brian said, "It looks great, you can't tell they were broken. Jesula can't stop Smiling!"
Can I get an Amen? God is just so Great. He realized Shawna's fear of having to take Jesula to the dentist one day and took things into His own hands. We are thankful He used "Dr. Bob from Indiana" and for what Dr. Bob did for our sweet Jesula.
Finally, we called Jesula last night and talked for about a half an hour. She was SO excited. She talked non stop, a little English sprinkled in with a lot of fast-paced Creole. She asked to talk to everyone. But, as always, she would talk briefly to someone and then say "I talk to Popi". It was obvious she likes her new Smile!
I want you all to know about the miraculous signs and wonders the Most High God has performed for me. Daniel 4:2