Oh how Haiti is calling me. It never leaves my mind really. Perhaps for a few minutes when I am really busy at work, but quickly it returns. It's such a strange feeling and somewhat hard to process. I can never really explain it to someone who has never been to Haiti. Those of you that have been know what I'm talking about. Haiti, even with it's far-reaching debris, sickness, and poverty, somehow hypnotizes us and calls us back. I think it is the Haitian people that captivate us. They have nothing in our terms, yet they worship and praise God more sincerely than most here ever have. The children celebrate life totally unaware of the circumstances that surround them. The Haitian people make us realize that the material things we are so addicted to are truly insignificant. They teach us such a great lesson about life.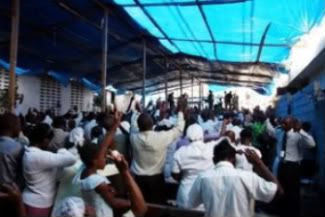 Christ the Redeemer Church Savane Pistache
My experiences in Haiti have definitely changed me and my life. It makes you take another look at your life, how you live, what you expect in life. It affects you in every way. It puts everything in perspective. People don't realize how lucky we are to have what we have. I'm certainly thankful for what I have and more energized than ever to help those less fortunate.
"Be thankful in all circumstances, for this is God's will for you who belong to Christ Jesus." Thessalonians 5:18